Morning time with three kids can start pretty early. I have one son who insists on waking up with the sun! Knowing the breakfast is the most important meal of the day, DH and I ensure that our children have a well rounded breakfast to give them energy to survive the day. One of my children's favourite breakfast meals includes "Chocolate Sandwich"; A slice of toast smothered in Nutella. Made with hazelnuts, skim milk and coca, its adds a little joy to our busy mornings!
Happy 50th Birthday Nutella
Did you know Nutella just turned 50 this year? 1940, a pastry maker named Pietro Ferrero created the first hazelnut and cocoa spread in Piedmont, Italy. It was called "Pasta Giaduja". It was name based on the texture (paste-like) and a famous carnival character in the region. Unlike today's hazelnut spread, the pasta giaduja was block cheese like consistency. It was made into loaves, wrapped in tinfoil then served as slices on breads or crackers. It quickly became a favourite meal among children, so much so, that they would throw away the bread and just eat the pasta giaduja. After learning this, Mr Ferrero altered the recipe to make it thinner, more paste-like, and sold it in jars. In 1964, 50 Years ago, pasta giaduja made its way to Canada and was renamed as Nutella!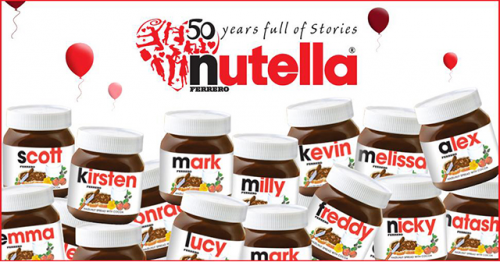 To celebrate Nutella's 50th bday, Nutella had a huge bash at Toronto Harbourfront Centre in the Exhibition Common. Although the day was cloudy and chilly, there were tons of smiles and plenty of Nutella samples floating around! One of Nutella's biggest fans, Olympic medalist Joannie Rochette made a special guest appearance and sat down with 1Heart1Family to chat over Nutella covered crepes.
1Heart1Family: What is your favourite part of Stars on Ice?
Joannie: I love travelling and performing all over the world. Best of all, I love the cast! We are like one big family!
1Heart1Family: How long have you been a Nutella fan?
Joannie: I have been a Nutella fan all my life. So much so, that I travel with it! I remember going to Japan for the first time on one of my tours and being served rice and fish for breakfast. Not something I was accustom to, I retrieved my Nutella from my luggage and ate it on toast. It was very comforting. Unfortunately, the waiter took my Nutella away by accident and I thought my team was playing a trick on me! Since then I have been known as the Nutella girl!
Check out 1Heart1Family's favourite Nutella recipe HERE!
#WIN a trip to Italy!
Show your Nutella Love! Enter to #Win a trip to Nutella's birthplace, Italy!! Simply share your fun, heartwarming or most memorable Nutella moment via photo, video or story on Nutellastories.com for your chance to Win! Contest ending soon!
Disclosure: I was provided with complimentary product in exchange for participating in this event. All opinions, expressed are my own.