In his university days, DH lived with three boys that came from farming families. Although, DH grew up in a normal suburban family, he enjoyed the stories, experiences and disappointments about farm life. From the repetitious playing of "She thinks my tractors sexy!" to the endless supply of fresh meat, DH learned a lot about farming and what it takes to be a farmer.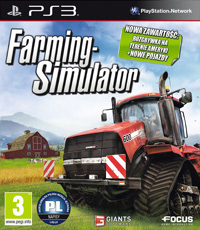 Farming Simulator
When I was asked to review Farming Simulator 2013 on PS3 from Giants Software and Focus Home Interactive, DH jumped at chance  to become a virtual farmer. Farming Simulator began as a PC game in 2007. To everyone's surprise, the success and popularity of Farming Simulator sky rocketed, creating a need for the multi-million selling franchise to be formatted for gaming consoles such as PlayStation 3 and XBox 360. Just released this past September, this game is sure to be a big seller this season
For those new to the series, Farming Simulator is a simulation game about farming. You become a Modern day farmer who is responsible for plowing, planting, and harvesting your crops. Just like a real farmer, you goal is make money through Animal husbandry and selling your crops, with no real "end-game" except the need to continually succeed. The more money you make, the more you can invest in your farm to grow and expand. The faster and more thorough you are at completing tasks,the more money you make. With this money you are able to 'purchase' bigger and more efficient farming machines. The game is strangely addictive and very therapeutic.
Features:
– Over 100 vehicles and tools
– Over 20 licensed brands including Case IH, Deutz-Fahr, Lamborghini, Same, Horsch, Amazone and many more
– Career mode with economic system, animal husbandry & purchaseable fields
– 3 animal types: chicken, sheep & cows
At the beginning of the game you are provide with tutorials that teach you how to harvest, cultivate and plant your fields. The tutorials are essential as they teach you how to control your farming machines and what you need to do in order to complete future tasks. It gives you the true feel of what farming is really like because you have to be able to multitask. You may be in the middle of harvesting when another mission is presented and you need to be able to complete your harvesting before the crops wilt, while still being able to commit to the new mission to earn more money.
Here is DH's opinion:
"The game fulfills every little boys dream to ride and control the huge farming tractors like the harvester or plow.  I liked how the game provided you with a true sense of what it must be like to be a modern day Farmer. Although the game does become somewhat repetitive, it is addictive in the way it makes you want to return time and time again, to earn a bigger tractor or strive to own more cows.  Its one of those games that you would say "I'll only play 5 more minutes" then the next thing you know hours have passed.
The most unique part of the Farm Simulator game is the lack of competition. As a single player, the game is about you and your farm. Although the occasional town person may venture by, there is no interaction allowed. If you play in the multi person setting, you all work together (rather than against each other) to build a farm. In both scenarios, there is no punishment if you take too long to complete a task or fail to complete it at all. This allows the game to be peaceful and relaxing rather then intense and frustrating. It is a great way to unwind at the end of a busy day."
Whether you be a parent with kids who are obsessed with heavy equipment or a parent who just want to teach an unconventional lesson in where your food comes from, this game is fun for the whole family!
1Heart1Family rates this game 3 out 5 hearts.
Farming Simulator is available on PC, Xbox 360, and PS3 World Wide for $29.99. Grab your controller, build up your farm, and face the challenges of a modern farmer. Don't hesitate to visit our official website if you need some more info!
Disclosure: I was provided with one or more of the above items for review purposes. All the opinions and thoughts expressed are my own.